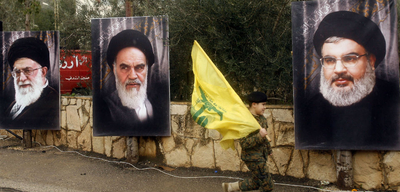 Being a nuclear threshold state and a rouge regime is toxic.Iran is a threshold state and rogue regime. Its 1979 Revolution says resist compromises in the national interest. No need to choose between bombing Iran and a nuclear-armed Iran: Seek soft revolution via coalition that rejects clerical rule.
Jay Solomon and Carol Lee, two widely respected reporters of The Wall Street Journal, wrote last week on Iran as both a nuclear threshold state and a rogue regime. On Feb. 13, Solomon and Lee said that Iran's Supreme Leader Ayatollah Ali Khamenei sent a new letter to President Obama.
That letter was in response to one sent by President Barack Obama in October 2014 that linked progress in the nuclear talks with cooperation between Washington and Tehran against the Islamic State (also called ISIS). According to these journalists, an unnamed Iranian diplomat informed them that Obama had sent a letter that raised the possibility of what I would call an American-Iranian entente cordiale to counter the Islamic if a nuclear deal is secured. Khamenei was supposedly "respectful" but noncommittal on the Obama offer to cooperate against the Islamic State.
Congressional pushback against a bad deal in the bilateral nuclear talks between Tehran and Washington plus expected failure of the multilateral Geneva talks could invigorate Hill pressure on the administration for reversion to the prior international consensus of zero right to enrich uranium gas on Iranian soil and zero breakout time before Tehran can dash for the bomb before inspectors can detect its moves. During July 2014, moreover, former Secretary of State Hillary Clinton exclaimed that allowing Iran to have "any enrichment will trigger an arms race in the Middle East," a signal that she favored the zero-enrichment option.
There also is growing support for tough measures against Iran in general. They include: ballistic missile constraints and zero collusion of Washington with Tehran in the fight against the Islamic State. Anticipate the Senate Committee on Foreign Relations under the leadership of Chairman Sen. Bob Corker (R-Tenn.) and Ranking Member Bob Menendez (D-NJ) to hold hearings that put the heat on Team Obama for tying the nuclear talks to an informal alignment with Iran against ISIS.
To continue reading please go to: Foreign Policy.