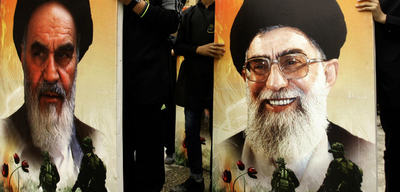 Cruel anti-Semitic attacks are "never solely about Jews," Ruth Wissewrote in the Wall Street Journal last week. Jews are the most vulnerable targets at hand to destroy the narrative of democracy that despots disdain—free speech, press, and religion. Such images are particular irritants to Islamists because they are threatened by freedom. And as noted student of Islam, Daniel Pipes argued in the National Review, "Images, not words, most disturb Islamists."
Now controversy abounds worldwide and in America about whether to support free speech of the cartoonists of the weekly magazine Charlie Hebdo, which was attacked by gunmen earlier this month. Their rights should be supported because the satirical drawings reflect freedom from oppression: Gérard Biard, chief editor of Charlie Hebdo, told Meet the Pressthat cartoon parodies of religious figures safeguard freedom of religion, because they "declare that God must not be a political or public figure, but instead must be a private one."
Despite protests and debate, many quietly laugh at despotic rulers of the directly affected areas, making despots' lack of legitimacy apparent and erode their assumed right to rule. Cartoons and comedy are frowned upon by al Qaeda's Ayman al-Zawahiri and his affiliate in Yemen, al Qaeda in the Arabian Peninsula (AQAP) leader Nasser al Wuhayshi; the Islamic State's Abu Bakr al-Baghdadi, self-proclaimed "Caliph" of a new caliphate on Iraqi and Syrian territory; and Ayatollah Ali Khamenei, "Supreme Leader" of the Islamic Republic of Iran. The latter prevails as if he had a right to rule from God and increasingly enforces his diktats by a brutal morality police force, said Shirin Ebadi, an Iranian who won the Nobel Peace Prize in 2003 and was punished by the regime for her defense of human rights in Iran.
Despotism and cruelty are an integral part of the Islamic Republic of Iran. It seeks to impose a brand of Shiite Islam on uncooperative Sunnis by extending its 1979 Islamist Revolution over the region covertly, as in Yemen,Bahrain, and Saudi Arabia. But wait: Saudi is also not a paragon of rights, having sentenced a man to a prison term and 1,000 lashes for insulting Islam, a "vicious act of cruelty," according to Amnesty International, which reported the incident earlier this month. A nuclear-armed Tehran, however, is much more dangerous than non-nuclear Riyadh, though they are both serial rights violators.
While President Obama finally seems to see al Qaeda and the Islamic State as the threats they are, he apparently views Iran as a normal state with which to do business. Consistent with the State Department Country Reports on Terrorism, Obama views al Qaeda and the Islamic State as perils, but he fails to hold the Iranian regime accountable for facts in the Department's annual identification of Tehran as main state sponsor of international terrorism. Ditto for State's report on the country's human rights practices, which cites: "disappearances, cruel, inhuman, or degrading treatment or punishment…beatings and rape…arbitrary arrest and lengthy pretrial detention."
To continue reading please go to: atfp.co/1C4k5su