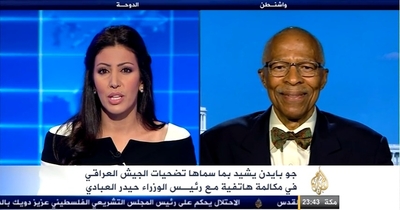 Gen. Qasem Soleimani Revolutionary Guard Corps Quds Force has facilitated killing of Sunni civilians in Iraq by radical Shiite militias that also bully Iranian dissidents at Camp Liberty, Iraq; armed troops that destabilize Yemen and threaten Saudi Arabia; and helped Assad remain in power in Syria, which set the context for gains there by the self-proclaimed Islamic State of Iraq and Syria (ISIS), aka Islamic State.
According to 21 May 2015 congressional testimony by Dr. Fred Kagan, "...Shia militia forces are part of the Iranian military de facto. The Badr Corps, run by Hadi al-Amiri, reports to Qassem Sulemani, the commander of the Quds Force. "Kata'ib Hezbollah [is] run by Abu Mahdi al Muhandis, reports to Qassem Sulemani, commander of the Quds Force." Because the Iranian regime is part of such problems in Iraq, it should not be a part of solutions.
The takeover of Ramadi accelerates the appeal of ISIS to Sunni Iraqis who had been fence-sitters; tribal leaders are especially vulnerable to defecting to ISIS as its momentum increases. During 2014, local Iraqi Sunni grievances against the Shiite-led government in Baghdad and ISIS controlled more than half of the territory around Ramadi; by springtime of 2015, it controlled even a greater share of Ramadi.
Regional allies like Saudi Arabia may be less willing to act in the coalition against ISIS and may be more inclined to overlook Saudis who assist the Islamic State. Research indicates that Washington needs to listen and hear Saudi Arabia and Egypt, as ISIS makes gains in Yemen and in the Sinai Desert. Instead the Obama administration is so strongly inclined to obtain some sort of a nuclear deal with Iran that Washington is willing to ignore Tehran's efforts to destabilize the region.
Regarding the Lausanne framework deal, on one hand, regional allies are especially concerned that the Iranian regime will receive sanctions relief upfront and such reprieve will be difficult to snapback.
On the other hand, the framework institutionalizes Iran as a threshold nuclear power legitimately able to develop nuclear weapons whenever it decides. In this respect, the framework recognizes the Iranian regime's assumed right to enrich uranium on its own soil, contrary to a half of dozen UN Security Council resolutions that denied Tehran this claim.
To watch the complete interview please go to: Iran Policy Committee Publishing