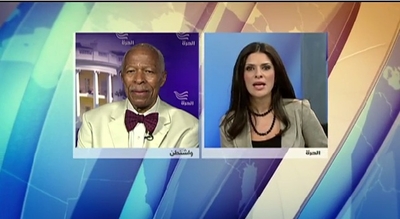 Tanter used for his discussion on Iraq, Iran, and Syria the following talking points. He called for a regional strategy that incorporated the porous borders of the Iraq and Syria as a point of departure and to support moderates in these three countries.
Turning to Tehran to help stabilize Iraq would be like asking an arsonist to help put out the fire. So the road to stabilizing Baghdad does not run through Tehran. The road to Baghdad runs through a coalition of moderates in the region and in Iraq. And the road to Baghdad bypasses Damascus to provide more robust support to "moderate" Syrian rebels.
Likewise, Washington needs to take action to relieve the plight of Iranian refugees held in prison-like conditions in Iraq. Called the People's Mojahedin Organization of Iran (PMOI), these Iranian dissidents are the core of the prodemocracy movement and largest unit within the National Council of Resistance of Iran (NCRI).
The NCRI/PMOI provided intelligence to Washington that helped save American lives in Iraq andcontinue to expose Iranian cheating on its nuclear weapons program. Hence, Washington should help resettle them to third countries, including the United States.
To watch the complete interview please go to: http://youtu.be/lCu3FaAWszI