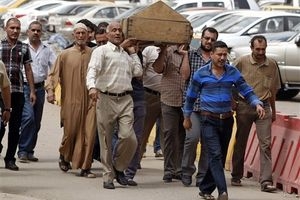 Consider three principles. First, in Plato's Republic, one definition of justice is to give each person that which is due. Second, Martin Luther King stated, "Injustice anywhere is a threat to justice everywhere." Third, King also said, "The arc of the moral universe is long, but it bends towards justice."
Two groups receiving "due justice" are Iraqi Yazidis and Afghan interpreters. It is intolerable for the State Department to ignore virtual imprisonment by Baghdad of Iranian dissidents stuck in Iraq. To defend Yazidis and offer visas to Afghan interpreters but not to Iranian dissidents is an injustice to those whom we promised to protect and have provided useful intelligence to us; such actions degrade the good deeds done for Yazidis and Afghans.
With United Nations actions in support of Yazidis, the arc of justice tilts in their favor. They belong to a pre-Christian and pre-Islamic sect, which is vulnerable to the Islamic State (IS); it believes Yazidis are apostates deserving execution. The International Rescue Committee describes how 30,000 Yazidis are on Mount Sinjar, Iraq, under siege by IS. The UN Security Council condemned attacks by IS and expressed its "deep outrage" about the treatment of Iraqis from vulnerable minority communities, especially Yazidis and Christians, displaced by such attacks.
(To continue reading go to The Hill)